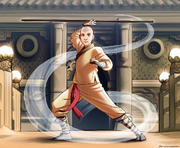 Aang is the last of his kind, & the current Avatar. He lives in the world,
Land of the element-benders
. He is on a journey to explore the worlds, & learn water-bending, earth-bending, & fire-bending. He is voice in Japanese by Junko Takeuchi, & in english by Noah Ringer.